What Is an Airbnb Cleaning Checklist?
It is no surprise that one of the most important components influencing a vacation rental guest's experience is the property's overall cleanliness. This is where an Airbnb cleaning checklist comes in.
An Airbnb house cleaning checklist is a physical or digital list of tasks for hosts or cleaning services to complete in between guests' stays.
Whether you manage a bed and breakfast, a cabin, or any other type of holiday home, cleaning can be quite a chore. To make the task easier, use a vacation rental cleaning checklist to help ensure happy guests and more positive reviews every time.
Example Housekeeping Checklist Template for Airbnb
Below, we've provided an Airbnb cleaning checklist template for each main room in a short-term rental. Use these vacation rental checklist templates as you clean your property, or give it to your professional cleaner.
Kitchen
Wash, disinfect, and put away dishes
Sanitize all surfaces, including counters, cabinets, and tables
Disinfect the inside of the sink and backsplashes
Wipe down the interiors and exteriors of small appliances, including the microwave and coffee maker
Clean the inside and outside of the oven, refrigerator, and freezer
Refill kitchen supplies, including dish soap, dish towels, and sponges
Clean the windows and dust the windowsills
Sweep and mop the floors
Take out the trash, disinfect the garbage can, and replace the trash bag
Make sure all kitchen supplies are arranged nicely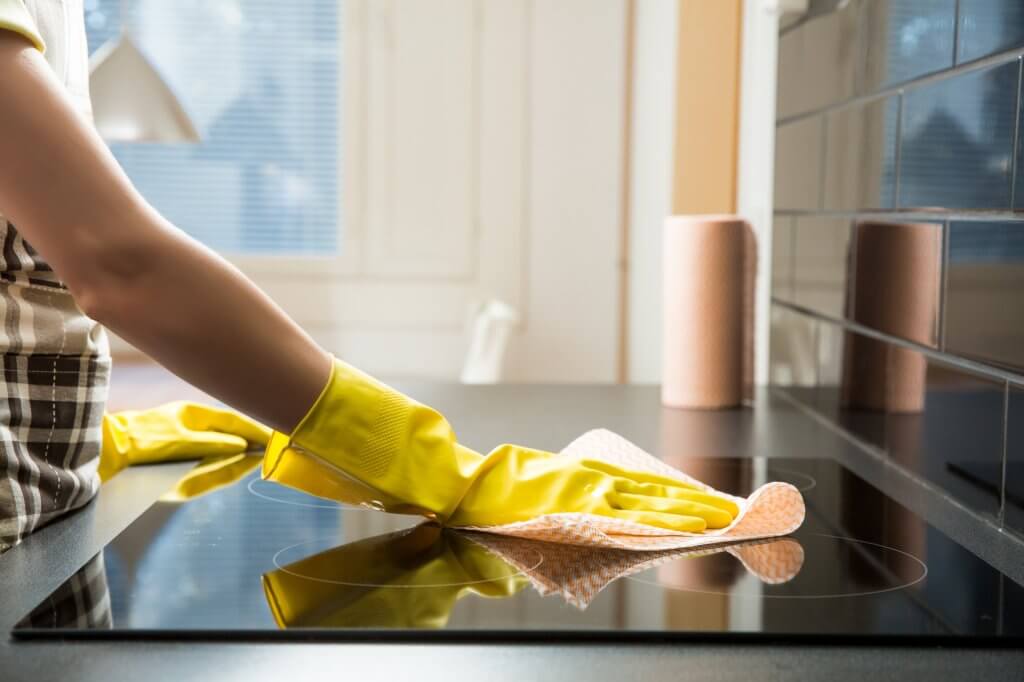 Bedrooms
Remove mattress protector, sheets, pillowcases, and blankets and launder properly
Dust the tops of dressers and nightstands before vacuuming
Wipe down other surfaces, such as ceiling fans and décor
Clean smudges from windows and dust windowsills
Disinfect high-touch items like light switches and TV remotes
Check the room for any personal belongings (if found, notify host)
Ensure there's no sign of damage on bedding, furniture, and other items
Vacuum the drapes using an attachment on your vacuum cleaner
Vacuum the floors, including under the bed, addressing any carpet stains if needed
Empty the trash cans and wipe them down
Remove trash and clean trash cans
Make sure the bedrooms are stocked with necessary inventory, such as linens
Remake the bed with a fresh set of bedding
Ensure any décor, artwork, and knick-knacks are arranged nicely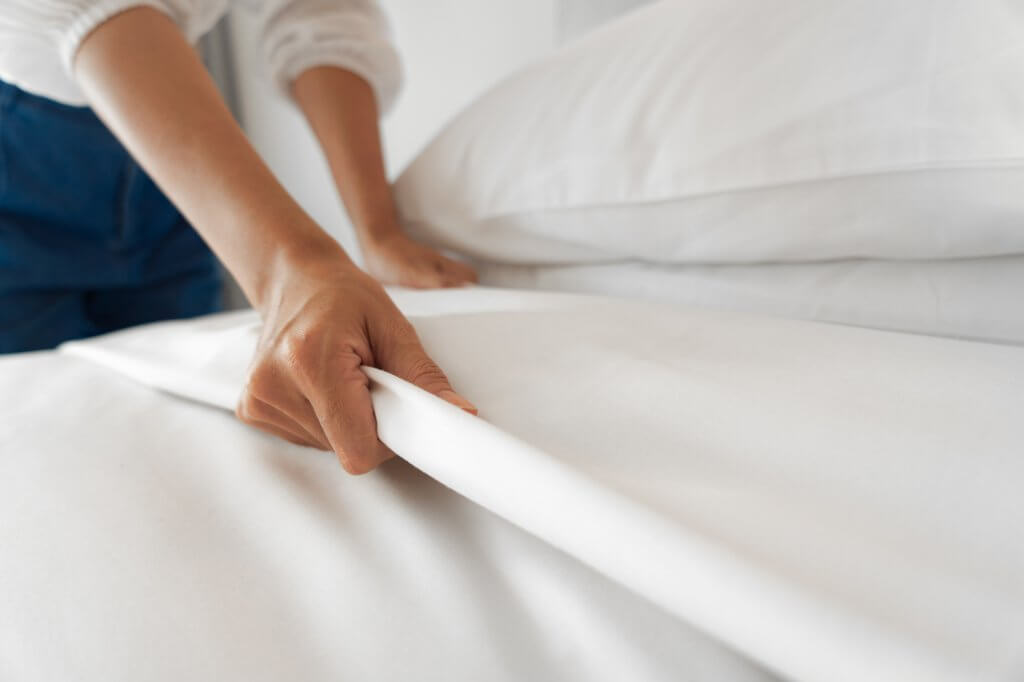 Bathrooms
Gather dirty towels and bathmats and launder appropriately
Check the drawers and cabinets for personal items (if found, notify host)
Clean the mirrors and windows using a microfiber cloth and glass cleaner
Clean and disinfect the countertops, backsplashes, sinks, and faucets
Scrub the bathtubs and faucets and/or the showers and shower doors
Remove hard water stains using a solution of vinegar and water
Sanitize the toilets, making sure to clean inside, outside, around, and behind
Dust the windowsills, vents, and fans
Empty and wipe down the trashcan
Sweep and mop the floors
Ensure there are enough amenities, such as hand soap and toilet paper
Check the entire bathroom for signs of wear-and-tear, mold, and other damage
Put out clean towels and bathmats
Ensure bathroom items, such as the hairdryer, toothbrush holder, soap dispenser, and more, are arranged nicely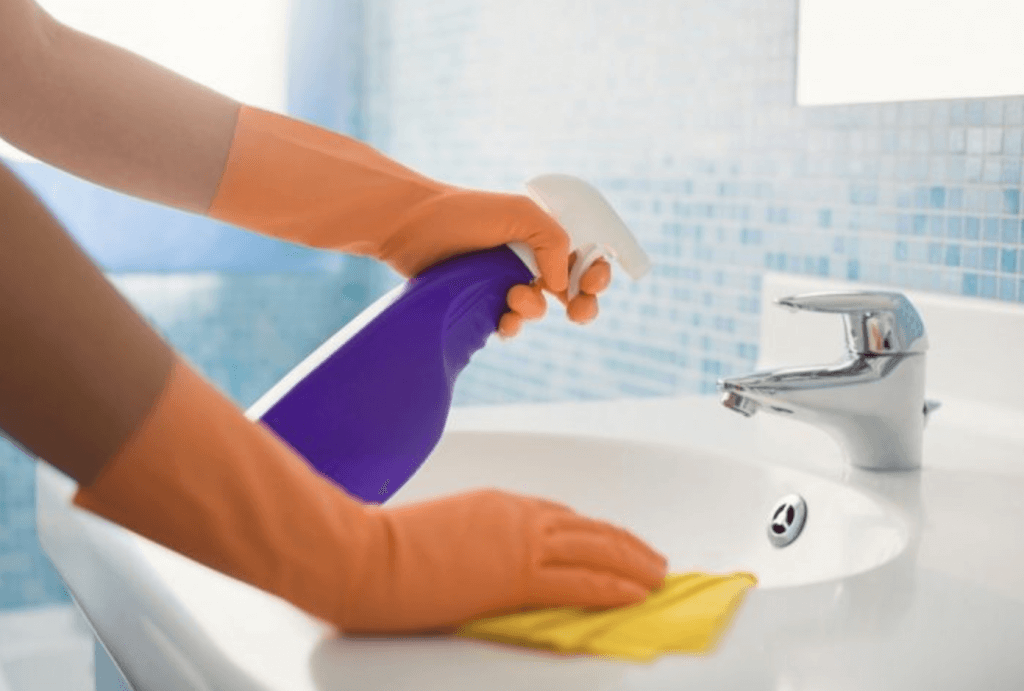 Living Room
Wipe down end tables, coffee tables, other furniture, and shelving
Dust appliances, such as televisions and other electronics, and décor
Clean the interiors of the windows and sliding glass doors and wipe down the windowsills
Dust any light fixtures, such as ceiling fans and lamps
Sanitize frequently touched items like TV remotes and light switches
Clean and refresh cloth items such as couches, chairs, and throw pillows
Launder any throw blankets and replace them once clean
Use the attachment on your vacuum cleaner to clean under the couch cushions
Sweep and mop and/or vacuum the floors as appropriate
Ensure any media, such as books, DVDs, and board games, as well as any décor or artwork, are arranged nicely
Make sure the throw pillows are fluffed and the throw blankets are neatly folded
Put the welcome book in an area where it will be easily accessible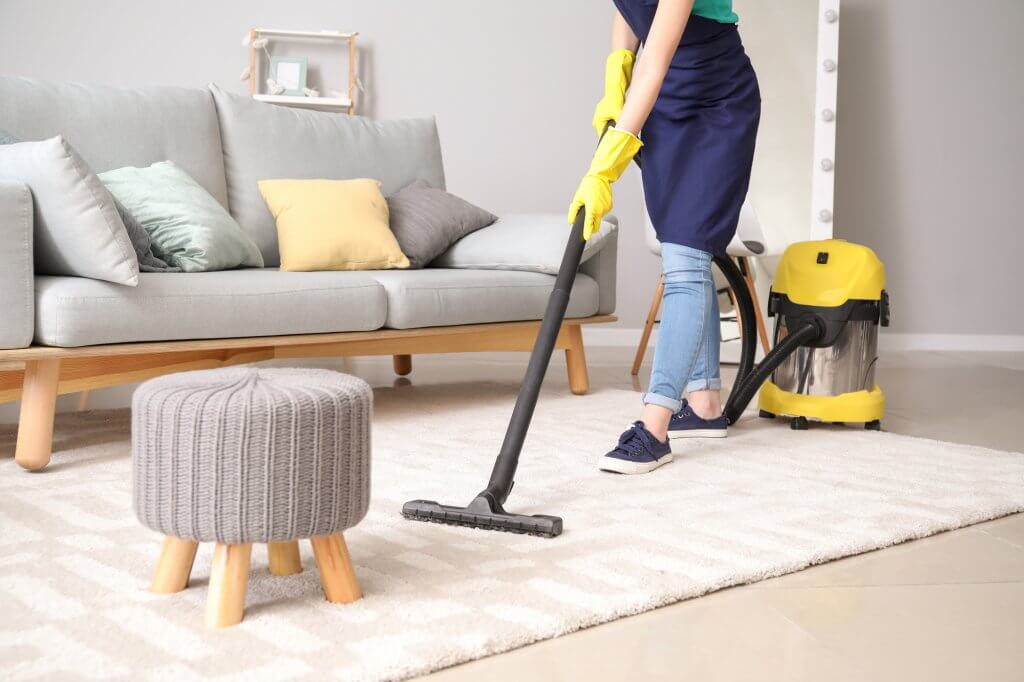 Other Areas of the Home
Dining Room
Wipe in between furniture spindles for hidden crumbs
Make sure nothing has been stuck to the bottom of the table
Wash tablecloths and any other washable fabrics
Disinfect any highchairs or booster seats
Clean centerpieces
Be sure to move the furniture aside when cleaning the floor to get any remaining crumbs. If there is a wooden dining table, finish by using a wood polish. If there is a glass table, be sure to remove all fingerprints and smudge marks.
Exterior
Remove any dead leaves and branches from the lawn
Trim bushes and mow the lawn regularly
Remove weeds and other debris
Wipe down outdoor furniture
Clean railings
Sweep the patio and deck
The exterior of a house is a preview of the character of the home itself. A well-maintained lawn creates an inviting welcome to any property. On the contrary, an unkempt lawn might make guests second guess their stay. It may also be a good idea to pressure wash the driveway and any walkways every so often.
Airbnb Cleaning Checklist PDF
For an easy way to print and use our sample turnover cleaning checklist, we've created a PDF for hosts and cleaners to download and print in just a few clicks. Our printable Airbnb checklist template is organized by room, so it's simple to use and ensures no cleaning task is missed.
Download a Free Airbnb Checklist PDF
Benefits of Using an Airbnb Cleaning Checklist
A detailed vacation rental cleaning checklist will help ensure your cleaning service has thoroughly prepared the property for the next guests. Checklists will also impress your customers, showing organization and attention to detail in your cleaning routine.
How an Airbnb Cleaning Checklist Benefits Hosts
Imagine your guests have just checked out from your vacation rental property. Now, you only have two hours before your next guests arrive. If you're cleaning your own property, this scenario can be stress-free with an Airbnb host cleaning checklist.
If you work with a professional cleaning service, requiring that they use a specialized checklist will give you peace of mind that every nook and cranny of your rental will be cleaned properly. Whether you use a Turno public checklist or build your own, you will be on the right track to a 5-star clean every time.
How an Airbnb Cleaning Checklist Benefits Cleaners
As a vacation rental cleaner, your success is largely based on the reviews given by guests to the Airbnb host. If a host receives poor feedback about their property's cleanliness, they may decide to not have you work with them again.
A cleaning checklist helps prevent bad reviews about cleanliness by making sure that you and the host are on the exact same page. You'll be able to know exactly what needs to be cleaned so that you'll never miss a spot. When guests — and hosts — are satisfied with your work, you'll have created a lasting customer relationship.
How an Airbnb Cleaning Checklist Benefits Guests
Guests generally feel more comfortable in rentals that are aesthetically pleasing. An attractive property that is visibly free of mess and clutter can offer guests a chance to escape their everyday lives.
But do you know what guests don't like? You guessed it: unclean properties — and more specifically, a property that shows any sign of the last person's stay. Airbnb reviews tend to be heavily swayed by the cleanliness of the property. Guests will be much more likely to give 5-star reviews and book again when their Airbnb is spick and span.
How to Use an Airbnb Cleaning Checklist
The Turno checklist feature allows hosts to create and share professional Airbnb cleaning checklists using dozens of pre-made templates. Vacation rental cleaners can then follow these checklists to ensure that the short-term rental cleaning goes smoothly.
As a host, you can create your vacation rental cleaning checklist on the Turno web app and assign different checklists to different properties. You can also add or subtract cleaning items to a particular checklist. This ability is beneficial when you want a deep cleaning, that involves more checklist items, for a property.
If you create a helpful checklist and would like to share it with other hosts and cleaners, be sure to check the "make it public" button. You can also make certain checklist items private, such as key codes or addresses, on a public checklist for your privacy. Sharing your short-term rental cleaning checklist is a great way to support your fellow vacation rental hosts.
As a cleaner, the checklists are viewable on both the website and Turno mobile app. On the mobile app, cleaners can check the circles next to the checklist items and then "complete" the project when they are finished.
Hosts will receive an email notification when the cleaner marks the project as complete. This provides peace of mind especially when the turnover window is tight and the next set of guests is soon to arrive.
Airbnb Guest Cleaning Expectations
You don't have to provide an Airbnb cleaning checklist for guests, however, some hosts choose to do so to make sure the property is tidied up a bit before the professional cleaning takes place.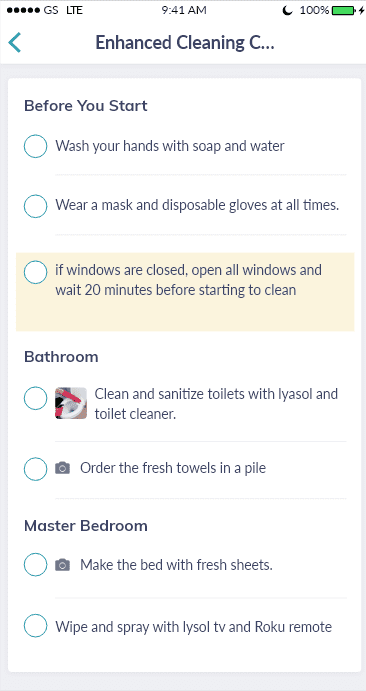 An example Airbnb guest cleaning checklist might include:
Picking up trash from around the property
Placing dirty dishes in the dishwasher
Piling dirty towels in the tub or neatly on the floor
If you do choose to ask guests to tidy up before checking out, you can list your policy in the House Rules on your listing.
Top Vacation Rental Cleaning Supplies
Whether you're a vacation rental host who's cleaning their own property, or if you're hiring a professional cleaner, it's key to know what supplies are needed to make your Airbnb sparkle. Not only will this help avoid any last-minute trips to the store, but it will also ensure that the property is fully ready for the next renters.
Much like a mechanic's toolbox, each cleaner's supply kit will vary. The following supply list is a starting point to expand upon as you determine more specific items to fit your needs.
Your Airbnb cleaning items checklist may include:
Vacuum
Mop (traditional or Swiffer type)
All-purpose cleaner
Glass cleaner
Bathroom disinfectant
Microfiber cloths
Toilet brush
Duster
Wood polish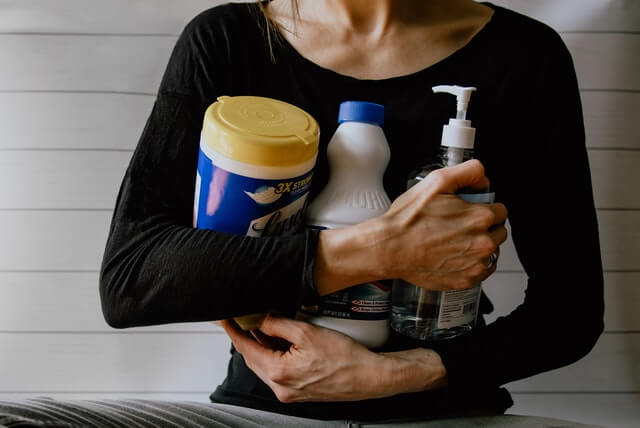 Airbnb COVID-19 Cleaning Procedures
With the emergence of the coronavirus pandemic, the vacation rental industry found that a standard cleaning list may not be enough to fully disinfect and sanitize a home. To combat this fear, Airbnb developed its Enhanced Clean process.
The 5-step Airbnb COVID cleaning checklist includes:
Prepare by ventilating the property, using approved cleaning products, and washing hands frequently
Clean the property, making sure to dust, vacuum, mop, and wipe down surfaces
Sanitize high-touch surfaces, allowing the disinfectant to sit for the proper length of time, and then air-dry
Check each room to ensure no surface or item was missed
Reset the property by washing your hands before restocking guest supplies and disinfecting your cleaning equipment before the next job
If you work with multiple cleaning staff, be sure to share this COVID cleaner checklist with the entire team.
Cleaning Tips for Year-Round Property Maintenance
Cleaning an entire dirty property at once can be a challenging task. To make it less daunting, clean regularly and check off additional maintenance as needed.
Off-season Airbnb cleaning duties include:
Check the plumbing
Replace any burnt out light bulbs
Clean behind appliances (oven, dishwasher, and refrigerator)
Touch up the paint
When the property is not in use, consider adding protective coverings over the furniture. This will help to eliminate excess dust and make it easier to clean during the busy rental season. Roll up rugs and store them so they don't gather dust or acquire new stains.
Make Cleaning Simple With an Airbnb Cleaning Checklist
No matter if you're an Airbnb host or cleaner, you've probably experienced driving home after a long day and having a nagging feeling that you forgot to do that one little thing. Vacation rental cleaning checklists help you — or your cleaning service — stay on track and never miss a task.
In addition to checklists, Turno offers numerous other features for hosts to help streamline and automate their day-to-day operations. From auto-scheduling to inventory tracking, we can help simplify your vacation rental cleaning process.