What Does It Mean to Be an Airbnb Cleaner?
Airbnb cleaning is a great way to start a cleaning business. You do not have to be an extremely seasoned cleaner to start cleaning short-term rentals because it's more about maintenance and upkeep through cleaning.
The main tasks of an Airbnb cleaner involve vacuuming, dusting, sweeping, mopping, and sanitizing high-touch surfaces. You will want to know how to clean the bathrooms and kitchen as those are the most used rooms in a short-term rental. Understanding how to properly clean the oven, refrigerator, sink and drains, and showers will also come in handy.
Additionally, you may have an important role to play in property maintenance. In many cases, you'll be the only one to go to the property in between guests, so you'll want to mention to hosts any damage — though you won't be responsible for repairs.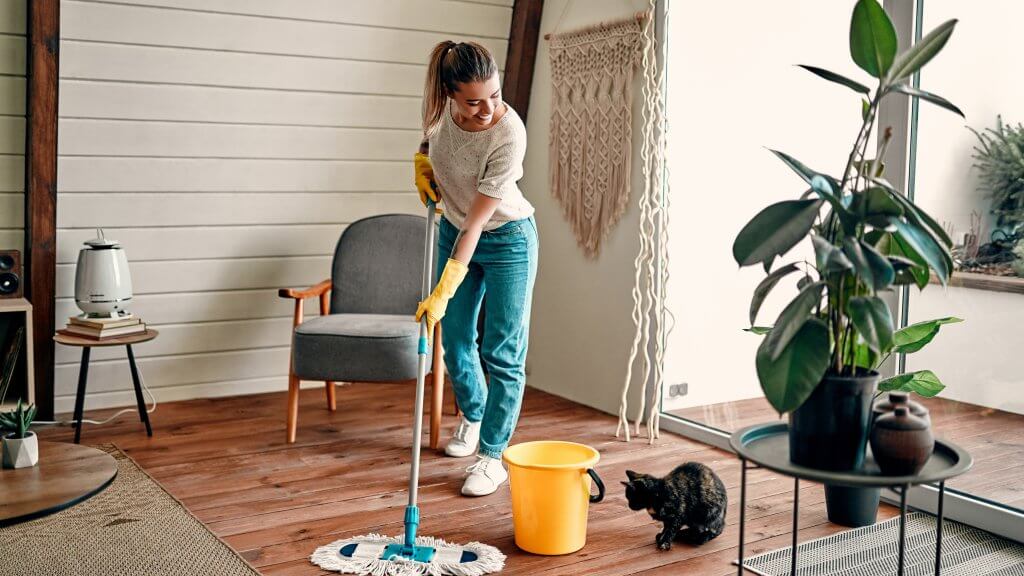 Benefits of Staying Organized During an Airbnb Cleaning
When taking care of multiple properties, it may seem difficult to remain on top of things. And knowing how to clean an Airbnb is only half of the job.
Not only are you organizing your clients' belongings, but your own as well. One key benefit of staying organized during an airbnb cleaning is that clients will recognize your organizational skills and reward you with higher reviews. This is beneficial because reviews can make or break a cleaning business.
Another benefit of becoming organized is that it will alleviate additional stress and worry about not being able to complete the cleaning project properly. Feeling confident and ready to do a good job on your cleaning will only help you in the long run.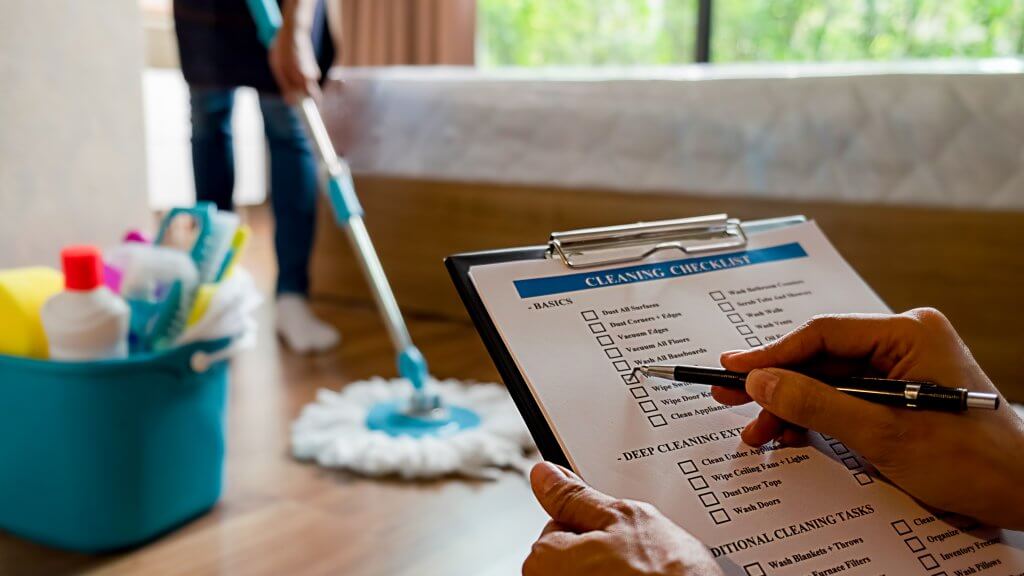 7 Cleaning Tips for Remaining Organized as an Airbnb Cleaner
Cleaning and organizing are two tasks an Airbnb cleaner will need to manage. Juggling the two can become overwhelming, but the following cleaning tips will aid you in remaining organized.
1. Create a Checklist
Checklists are multi-purpose tools aimed to help you organize your tasks and belongings. Each cleaning checklist is unique to its owner. The following checklist is a guide to get you started on customizing your own.
Airbnb Cleaning Checklist
You will want to first establish whether you want your checklist to flow room-to-room or by task. The following Airbnb cleaning checklist has been labeled as a room-to-room guide.
Bedroom
Wash bedding, such as sheets, blankets, pillowcases, etc.

Dust and sanitize ceiling fan, lighting fixtures, shelves, and other surfaces

Vacuum

Restock linens and sheets
Bathroom
Dust and sanitize lighting fixtures, shelves, and other surfaces

Clean and sanitize toilets, showers, sinks, and drains

Sweep and mop the floors

Restock toiletries and towels
Living Room
Dust and sanitize lighting fixtures, shelves, and other surfaces

Vacuum

Mop, if applicable
Kitchen
Dust lighting fixtures, shelves, and other surfaces

Sanitize the interior and exterior of cabinets and drawers

Wash and store any used dishes

Clean and sanitize the interiors and exteriors of the oven and refrigerator

Restock non-perishables, if applicable
2. Purchase a Cleaning Caddy
Not only should your cleaning flow be organized, but your supplies should be as well. Coming to every cleaning project prepared and ready to perform is crucial. Clients are more likely to rehire you if they notice that you value their business and show up to work prepared.
A cleaning caddy will help you organize your cleaning supplies per project. You'll be able to carry all your necessary tools and cleaning solutions at once, and they'll be easy to access.
3. Be Flexible With Your Schedule
Your schedule determines how much you make, but if it's too complicated, it can become difficult to maintain. For instance, if you constantly double-book clients or pack your cleaning projects back-to-back, you may have trouble managing your output.
You can be a super cleaner without having to create a chaotic schedule. If you find that your projects leave you little room to do a thorough job, make some changes. This does not mean you have to completely cut down your hours or total projects.
4. Walk Through the Property Before Cleaning
When managing a turnover cleaning, you should quickly look around the property to ensure everything is in order and nothing is broken before attempting to clean it. This will help you determine how to clean the property and restock inventory as quickly as possible.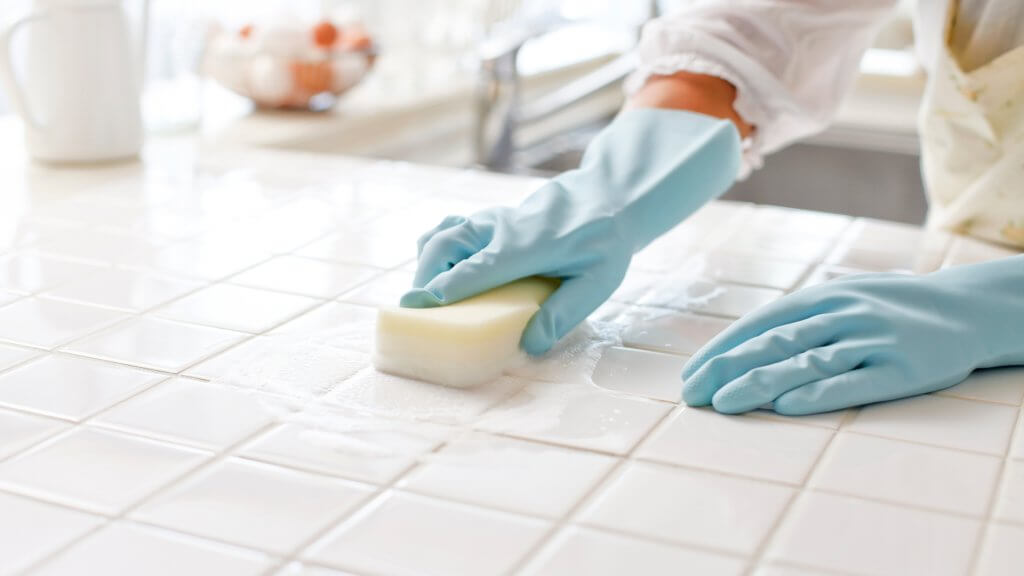 5. Establish a Cleaning Flow
Your cleaning flow is the unique process you follow to help you achieve success and efficiency each time you clean.
One example of a cleaning flow is working by task. This can save time because you'll be performing the same task — for example, dusting — across the entire property, preventing you from having to switch cleaning supplies like you would if you were working one room at a time.
6. Keep Track of Inventory
One thing you'll be expected to do for most hosts is to keep track of their inventory. Hosts rely on you to be sure they have everything on the property needed to keep guests happy. Be sure to check toilet paper, soap, linens, coffee, trash bags, paper towels, and other goods.
When the host is running low, give them a heads-up on what they need. This will help you complete quick turnovers when needed and show the host that you are taking care of their property.
7. Properly Manage and Update Your Payments
One last tip is to set up automatic payments. With Turno's automatic payment feature, as soon as you finish your cleaning project, you can press the complete button to trigger your payment — helping ensure you always get paid on time. Our cleaner app also allows you to send automatic invoices to hosts for completed cleaning projects.
Optimize Your Cleaning Flow
Feeling ready to start cleaning? With our organizational cleaning tips, you will be able to tackle any cleaning project. Save time and effort in trying to manage your cleaning business on your own by utilizing the Turno cleaner app.