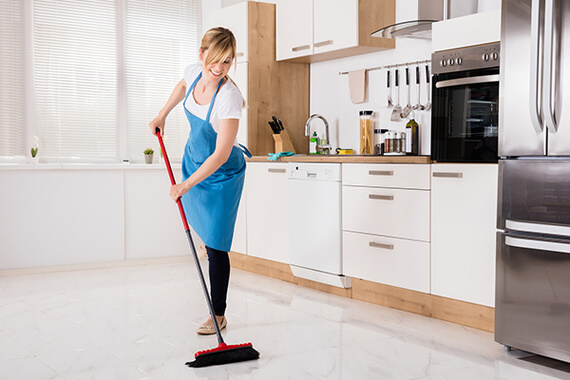 What Is Vacation Rental Cleaning?
On the surface, cleaning short-term rentals may seem comparable to cleaning your home or even a hotel room. In reality, vacation rental cleaning involves more tasks, more efficiency, and more attention to detail than other types of cleaning.
When cleaning your own home, it's tempting to skip over the non-essential tasks, such as cleaning the baseboards or the ceiling fan blades. In a vacation rental, however, these often overlooked areas will still be scrutinized by hosts and renters alike. After all, a host's success largely depends on the cleanliness of their property.
To continue, hotels typically include fewer rooms and amenities than a short-term rental. A hotel housekeeper likely won't have to worry about cleaning a full-size kitchen or multiple bedrooms, for example. On the other hand, professional vacation rental cleaners must account for a kitchen, multiple bedrooms and bathrooms, an outdoor patio or garden area, and more.
For these reasons, professional Airbnb cleaners tend to follow a comprehensive cleaning checklist and come prepared with an arsenal of cleaning products and equipment.
Vacation Rental Cleaning Supplies
According to Airbnb, the following equipment, supplies, and protective gear are recommended for vacation rental cleaning:
Bleach
Broom/dustpan
Duster
Floor cleaner
Garbage bags
Glass cleaner
Microfiber cloths
Mop/bucket
All-purpose cleaner
Oven degreaser
Paper towels
Rubber gloves
Scrub brush/pads
Vacuum cleaner
Wood polish
This is not a complete list of supplies, and vacation rental owners and cleaners should communicate regularly to know exactly what items are needed for a property's cleaning tasks.

What Do Vacation Rental Cleaners Do?
Vacation rental cleaners perform many of the same tasks that other types of cleaning service providers do. That said, they must have unmatched speed, skill, and attention to detail.
Many times, a host will have a late check-out and an early check-in all in the same day, leaving only a couple of hours for the turnover. This means that vacation rental cleaners will have to work with extreme efficiency to get the property ready for the next set of guests.
As mentioned above, renters can be a tough audience when it comes to cleanliness, meaning professional Airbnb cleaning teams must provide a high standard of service and skill for each and every turnover.
In addition to dusting, sanitizing, sweeping, and mopping, short-term rental cleaners must also change linens and towels, assess the property for damage, ensure there are plenty of toiletries, and more. Vacation rental cleaning is more than just cleaning — like hosts, Airbnb cleaners have a role in making sure guests have a relaxing and enjoyable stay.
Can I Do a Vacation Rental Cleaning Myself?
Many hosts with one or two properties decide to handle vacation rental cleaning on their own. This may seem like a desirable option, as it may save you some cash in the short term. For hosts who don't live close to their properties and/or don't consider hosting their full-time jobs, DIY cleaning probably won't be a sustainable or even feasible option.
Seasoned Airbnb hosts tend to rely on professional cleaners to service their properties in between guests and have found numerous benefits in doing so.
Benefits of Professional Vacation Rental Cleaning
Hiring a professional to do your vacation rental cleaning has multiple advantages, even for small business owners.
Saves Time
One of the most obvious yet important benefits of professional Airbnb cleaning is the time it can save vacation rental hosts. Cleaning a one-bedroom property can eat up several hours of a host's time, as they'll need to check and recheck that the place is spotless.
On the other hand, a professional cleaning company may only need 90 minutes or so to service your property. This means that the total time spent on each turnover will be reduced, potentially allowing you to book guests more frequently.
Further, the time you would've spent on cleaning tasks can now be spent promoting your listing, staying up to date with your competition and industry, and growing your business.
Increases Cash Flow
A top concern of small business owners is figuring out how to grow and scale their businesses, according to Patriot Software.
For your vacation rental business to flourish, you'll need to invest ample time into marketing, networking, and growth strategies. This means that deep cleaning your property multiple times a week may not be the best use of your energy.
When you utilize professional vacation rental cleaning services for your Airbnb turnovers, however, you're maximizing your ability to brainstorm and develop new ways to reach more customers, scale your business, and increase your revenue.
Keeps Guests Happy
There's a reason why Airbnb allows guests to rate hosts based on their property's cleanliness — and this has become even more important following the 2019 coronavirus outbreak.
Vacationers, business travelers, and other guests expect short-term rentals to be clean and comfortable. You can help secure their raving reviews by making sure your place has been dusted, sanitized, and restocked with the essentials by top-rated cleaning professionals.
When your guests walk into your vacation rental and see sparkling tiles, fresh linens, and dust-free surfaces, you'll be on your way to receiving a 5-star review.
How Much Does It Cost to Have a Vacation Rental Cleaned?
Vacation rental cleaning costs vary by several factors, including your property's location, number of bedrooms, and condition. For this reason, there is no one-size-fits-all rate for short-term rental cleaning.
That said, there are national averages for vacation rental cleaning prices. Turno data shows that in Q3 of 2021, the average cleaning costs for 1-, 2-, and 3-bedroom properties were $55.93, $74.18, and $104.76, respectively.
These numbers vary widely by location. For example, the average cleaning cost for a 3-bedroom rental in Hawaii is $180.46, while the average price for the same sized property in Alabama is $68.65.
To find out more accurate costs for your location, reach out to pre-established cleaning businesses near you and request a quote. Be sure to emphasize that you are looking for vacation rental cleaning, not residential cleaning, when you ask for a quote.
What Do Cleaners Charge Hourly?
While the fees for vacation rental cleaning are typically determined at a flat rate per property, some professional cleaners will charge by the hour. This is because of the additional cleaning that may be necessary for vacation rental properties.
"On average, you'll pay anywhere from $25 to $90 per hour for house cleaning service. The size, location, and condition of your home strongly impacts the price." – HomeAdvisor
Charging hourly allows cleaners to ensure that extra labor is accounted for when extreme messes occur.
What to Know Before Hiring a Professional Cleaning Service
Because vacation rental cleaning differs from residential cleaning, it's important to look for professionals with experience cleaning short-term rentals like yours if you decide to hire outside help.
Before working with a cleaning service, make sure you know the answers to the following questions:
Does the cleaning company have experience servicing vacation rentals?
What are the company's rates for scheduled cleanings and last-minute cleanings?
How many staff members work at the cleaning company?
Can the company provide deep cleaning?
Does the company offer additional à la carte services, such as carpet cleaning?
Is the cleaning service able to share positive reviews from other clients?
By having an understanding of a cleaning company's experience, qualifications, and offerings, you can feel confident about whether your vacation rental will be in good hands. A clean Airbnb leads to satisfied renters — and 5-star reviews — so don't neglect to do a little bit of research beforehand.
How to Find Vacation Rental Cleaning Near Me
If you're a vacation rental host looking for a professional cleaning service, Turno is a great place to start.
Using the Turno app, you can browse our marketplace of tens of thousands of local cleaners to see their cost per turnover, location, and reviews from previous cleaning jobs. Cleaners are then able to bid on cleaning jobs close by.
Not only can Turno assist any host who needs an estimate of the price of vacation rental cleaning. Our app also provides hosts with access to an entire marketplace of professional and verified cleaners in their area. You can find a local cleaner with just a few taps on your smartphone.