What Do Airbnb Hosts Need to Know About Cleaning Bedding?
Bed linens and towels come in direct contact with guests' skin, meaning it's not likely that your renters will want to share sheets, pillowcases, and bath towels with a complete stranger. It goes without saying that these items should be changed during every turnover — but how often should blankets, duvets, and pillows be washed?
There are several things hosts need to know about cleaning Airbnb bedding, including how frequently to launder it, how to remove stains, and when to buy brand new bedding.
Sleep is a vital element of a guest's experience and comfort. By knowing how and when to launder your Airbnb bedding, you'll make your property an enjoyable retreat for travelers, notice a surge of 5-star reviews, and retain loyal customers.
How to Launder Airbnb Bedding
If you've invested in high-quality linens, you're going to want to know how to clean and maintain them. Below, check out the Airbnb bedding tips from cleaning experts, and get ready to provide a serene, luxurious experience for your guests.
Cleaning Airbnb Bed Sheets
As stated above, bed sheets should be washed after every guest. Airbnb professional cleaners recommend having one or two extra sets of clean sheets at your property to help ensure a quick turnover.
To make sure you always have clean sheets on hand, create a washing schedule that helps you track your clean bedding inventory.
What About Stain Removal?
Follow the tips below for easier and more efficient stain removal on Airbnb bedding:
Don't wait to tackle the stain. The longer the stain sits, the tougher it will be to remove.
Apply hydrogen peroxide directly onto the stain and wait for about 30 minutes. If you don't have hydrogen peroxide, hairspray or baking soda will work.
Another method that is effective in removing stains on your Airbnb bed sheets is soaking them with cold water, 1 tablespoon of vinegar, and 1/2 spoon of liquid dishwashing detergent. Then, rinse the affected area. Pre-treat the spot with the same process if the stain is still visible.
Alternatively, use a spray bottle with 50% water and 50% white vinegar. Spray the affected area, then dab it with a clean cloth. Next, drizzle some baking soda over the patch and clean it with a clean cloth after an hour.
Avoid using bleach on Airbnb bedding, as it can deteriorate microfibers and destroy the high-quality adhesive materials of the sheets.
Cleaning Airbnb Comforters, Blankets, and Duvet Covers
Washing comforters and blankets as often as possible is a good practice, but it can be time-consuming when turning over a unit with limited time.
The best thing to do, according to our veteran Denver Airbnb cleaner, is to use removable duvet covers, since other types of blankets, comforters, and quilts take a longer time to dry. Duvet covers are more functional because they protect your Airbnb bed sheets and can be quickly removed and easily washed.
A Massachusetts Airbnb cleaner in our marketplace recommends keeping multiple sets of duvet covers that cleaners can take home and launder. During the next turnover, the cleaners will bring back the laundered items.
When it comes to changing top bedding layers, many hosts on Turno wash blankets, comforters, and duvet covers every 2-3 weeks or after a long stay, while others wash them after every guest.
Many guests believe that hotels and Airbnbs launder bedding less frequently, so they immediately strip the beds of any top layers. However, short-term rental cleaning is more robust and can allow for a more thorough cleaning of these items. To notify guests of your cleaning efforts, consider leaving a note on the bed coverings stating that they have been laundered.
Cleaning Airbnb Pillows
Cleaning and sanitizing decorative pillows can be a little more complicated. For example, laundering a throw pillow several times a week is time-consuming, and it may take several dryer cycles to dry fully. Repetitive wash and dry cycles will quickly result in a dull, weathered-looking pillow.
To combat this issue, a top cleaner in the Turno marketplace advises to skip the washing machine and instead run the pillows in the dryer for ten minutes. The heat from the dryer will help make your throw pillows feel fresh and remove lingering dirt and dust.
For an even deeper clean, experienced vacation rental cleaners recommend throwing a wet towel in the dryer with the pillows. The steam that is created will eliminate bacteria and built-up grime.
Whenever possible, use removable pillowcases for your throw pillows. This way, you can launder the outer layer of the décor along with other sheets and linens after guests leave. To promote good hygiene and sanitization, spray some Lysol on the inner part of the throw pillows before putting the decorative cases back on.
Recap of Our Top Airbnb Bedding Tips
All of the Airbnb bedding tips we have shared so far have been gathered from skilled cleaners who have utilized various cleaning techniques in the vacation property cleaning industry throughout their career.
These professionals recommend administering the highest standard of cleanliness, especially when it comes to Airbnb bedding, to ensure that guests feel comfortable at all times.
Here is a roundup of our top Airbnb bedding laundry tips from expert cleaners:
Use removable duvet covers and throw pillowcases for quicker wash cycles
Keep multiple sets of laundry in the unit to exchange in-between turnovers
Start working on stains as soon as you see them
Run pillows in a hot dry cycle to kill germs
Leave a card that states all laundry has been washed and dried
By learning these Airbnb bedding tips and recommendations from professional cleaners, you will be prepared to deliver prime service to your own Airbnb property. You will also feel confident that you can tackle any bedding laundry issue, such as removing stains quickly and efficiently.
Lastly, you are saving your reputation from violating Airbnb hosting standards by making sure your bedding is clean and sanitized. When guests experience the fresh sheets, pillows, and blankets when they drift off to sleep at your Airbnb, they're more likely to leave a great review about your property and your hospitality.
Frequently Asked Questions About Airbnb Bedding
Where can I buy Airbnb supplies for bedding?
Top online and brick-and-mortar stores to buy Airbnb bedding include:
Amazon
Bed Bath & Beyond
Brooklinen
Target
West Elm
The most important thing to remember when purchasing Airbnb bedding is to choose high-quality products. Investing in well-made linens will help ensure your supplies last as long as possible. Not to mention, guests will greatly appreciate laying down on soft, comfortable sheets after a long day.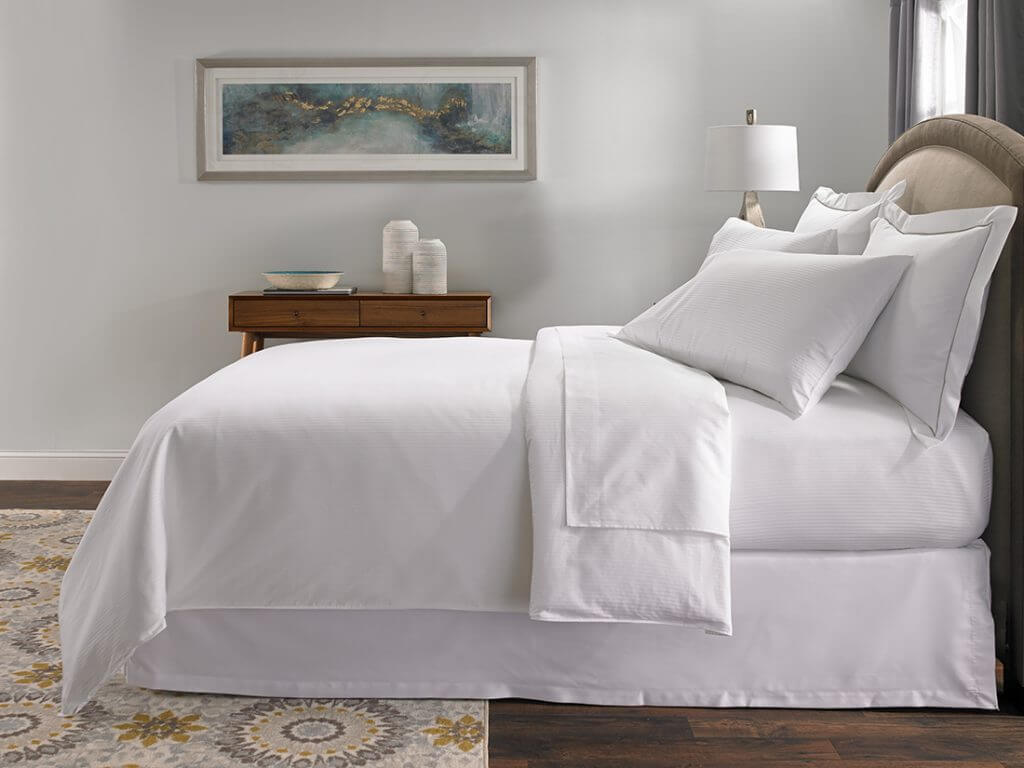 How many sets of sheets do I need as an Airbnb host?
Experienced Airbnb hosts recommend keeping on hand 2-3 sets of sheets per bed.
Having extra inventory will prevent you from having to rush to launder your bedding during a quick turnover. You'll be able to efficiently set up your property for the next set of guests and worry about laundry later.
How often are the sheets changed in an Airbnb?
Professional cleaners suggest washing Airbnb sheets at least once every two weeks, or between every guest stay, regardless of the length of stay.
Again, we recommend using removable duvet covers for quicker wash cycles.
What is the best mattress for short-term rentals?
A mattress lasts about 6 to 8 years, and it's important to regularly check the condition of your Airbnb mattress to promote quality sleep for your guests.
If you're looking to replace your Airbnb mattress, we recommend choosing one that's within your budget, long-lasting, and ultra-comfortable. Top mattress brands for vacation rentals include Nectar, DreamCloud, and GhostBed.
Try Out These Professional Tips at Your Own Property
Cleaning a vacation rental is already tough work without having to allot hours to laundering your bedding in between each guest.
The professional tips in this article are designed to help you navigate each turnover with efficiency, confidence, and ease. Proper cleaning of Airbnb bedding will increase the overall value of your vacation rental and delight your guests.
That said, if you'd rather a professional handle your Airbnb cleaning, we can help with that too. Find a cleaner in your area now.