Airbnb security cameras are increasing in popularity among hosts who feel the need to protect their property and belongings. Learn more about the importance of surveillance in an Airbnb and best practices, best security cameras for Airbnb, and the pros and cons of doing so.
Why Are Security Cameras Important for Airbnb Property Owners?
Vacation rental owners use security cameras as a way of ensuring the safety of their property. However, there has been an increase in privacy concerns which calls into question whether or not vacation homes should have security cameras.
Surveillance cameras are a good tool to use for property managers who are not always on-site or hands-on with their guests. Hosts that manage more than one property without a co-host may benefit from installing security cameras in their Airbnb to ensure that nothing is stolen or broken.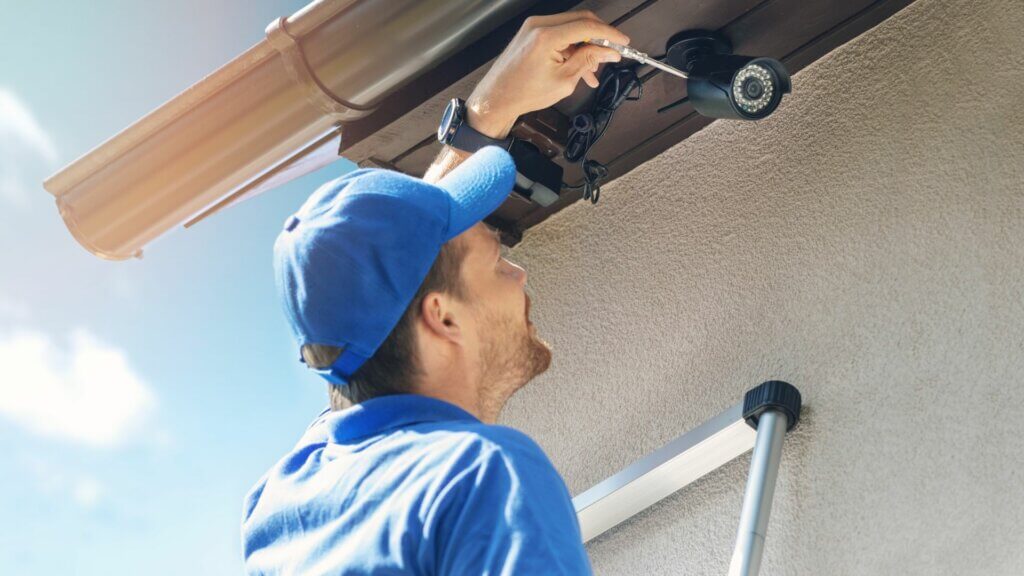 Airbnb's Policy on Security Cameras
The challenge of having security cameras in your Airbnb has to do with guest privacy and misuse of intent.
Airbnb is aware of the increase in security devices on vacation rental properties, and they will enforce their published property manager policies. The key takeaways from Airbnb's surveillance policy are:
Guests should always be informed up-front about the use of surveillance on your property.
Intentionally concealed surveillance cameras are never allowed. Airbnb prohibits cameras or recording devices in bathrooms, bedrooms, or the kitchen.
Even if security cameras are not in use, hosts are required to indicate where cameras or recording devices are located on the property. All should be easily visible.
The best practice to use security cameras is to always be forthright with guests. The more guests are informed of the location and intent of security on your property, the fewer chances hosts will have to deal with poor reviews or backlash.
How Common Are Cameras in an Airbnb?
Surveillance in an Airbnb is common among property owners who wish to protect their investments.
Based on a survey, less than 1% of approximately 6 million Airbnb listings (60,000 listings) include a surveillance camera. 69% of those 60,000 property owners install surveillance cameras on their front door or porch. In addition, only 30.2% of those hosts have an additional camera inside their property, like in their living room. Those who had more than one security camera elsewhere on their property amounted to roughly 36% of the hosts in the Airbnb survey. 
How to Inform Guests of Surveillance Cameras on Your Property
The trust in hosts using surveillance cameras has significantly impacted the way travelers view staying at an Airbnb. IPX 1031 surveyed if Airbnb guests trust their hosts. They found that 58% of the guests surveyed were initially skeptical of their Airbnb hosts having hidden security devices.
As mentioned previously, being up-front about having wifi cameras is best. Guests appreciate an honest and forthcoming approach to staying in a property that utilizes surveillance cameras.
The best way to inform guests of security cameras:
Have your Airbnb listing profile updated with safety devices clearly labeled.
Remind guests of safety devices, and where they are located, in your welcome message.
If you provide a guidebook, include a notice of where your safety devices are located.
In addition, establishing an on-property privacy policy may ease the skepticism of some guests. This will include an additional notice given to guests that lets them know in detail the reason for using surveillance cameras. This can include how the security cameras are there to protect the guests, as well.
It is recommended to be as transparent as possible when informing guests of where cameras are located throughout the property. This will aid in providing a more positive outlook on having surveillance at your vacation rental.
Top 3 Surveillance Systems for an Airbnb
Protecting your property through surveillance systems is important for any property manager. Even so, installing poor surveillance is never the right course of action.
The following are affordable and durable security cameras that anyone can install.
Google Nest
Google Nest offers multiple safety devices, but these are their top three types of surveillance cameras: Cam Battery, Cam Indoor, and Doorbell Battery. All three are budget friendly and offer a wide range of controls and quality features.
Google Nest makes it easy to manage and protect a property from afar by setting up alerts and being able to view footage from anywhere. This safety device is quick to install and isn't a hassle to maintain.
Blink Outdoor, 3rd Generation
Blink is an Amazon security camera that is mainly for outdoor use. The Blink 3rd Generation is a wonderful option for hosts who are looking to primarily set up outdoor surveillance. It is weatherproof, has infrared night vision, an extended battery life, and more.
Arlo Security System by NETGEAR
Arlo is going to be your most cost-effective choice for both indoor and outdoor surveillance. All devices are WiFi enabled with your choice of being wireless or not.
This is the security camera that is most recommended by other hosts. Arlo is a bit more of an advanced surveillance system and higher priced, but it is worth the up-front investment. Its cameras offer high-resolution video, recording, and a two-way microphone for guests to let hosts know when they have arrived and are checking out.
Benefits of Installing a Security System at Your Airbnb
You've invested valuable time and money into your property. Taking extra measures to ensure its safety is entirely within your right as a property owner. Vacation rental security cameras alleviate stress and are cost-effective for hosts who manage one or more properties.
The following will highlight additional key benefits of installing a surveillance system at your property.
Property Protection
The main concern hosts have is the safety of their property. Security cameras can give hosts peace of mind about their property by knowing their home is under watch.
Security devices are a great tool for hosts because they deter crime. Property damage and break-ins usually happen to homes that are unwatched and unmanned for periods of time. Considering vacation rentals may have extended days of vacancy between guests, they can be targeted. Theft and property damage has a higher chance of happening to vacation rentals that may not have visible security devices.
Liability Assurance
Moreover, should guests have an accident or serious claim, security cameras would be a way of gathering evidence. If hosts need to file a claim against their guest, it is important that they have solid evidentiary support or it will be null.
Rule Enforcement
It is hard to ensure that your house rules are being followed without actually being there. With the use of a surveillance system, hosts can monitor the number of guests staying over. In addition, they can ensure that no pets are being brought in if the vacation rental is not meant to be pet friendly.
Common Downsides to Airbnb Security Cameras
Before installing an Airbnb surveillance system, understand the few downsides to having a safety device. While they may make hosts feel better about their property, guests are typically more skeptical of booking vacation rentals with security cameras.
Guest Privacy
Security cameras have created controversies due to misuse. Guests simply may not be comfortable with having security cameras at a place that should feel like home. As a result, having security cameras may create a distrustful environment.
This is why it's important to be clear about the intention of using surveillance cameras either on the main listing profile or welcome message.
Up-Front Costs
Having security cameras can be a costly up-front investment. There can be costs for the purchase of the actual cameras, installation, and monitoring system. The average cost of a quality security camera is $200 – $300. Additional costs can come from paying outside resources to help you install and update the systems.
Luckily, the cameras recommended above are user-friendly and do not require much maintenance or repairs. Hosts will mainly have to worry about the up-front cost and depreciation of the product.
Protect Your Airbnb Investment Properly
Airbnb surveillance cameras are an easy solution to protecting your vacation rental. They are a convenient tool to track and manage your turnovers.
Protecting your Airbnb comes in many forms. Another way to protect your property investment is to keep it in top-notch condition. Hiring a professional Airbnb cleaning service can aid in doing so. Through the Turno Host App, hosts can manage property problem reports, inventory, and more.