How Can Unique Offerings Elevate Your Airbnb?
There are over 6 million listings on Airbnb. This means that to set your listing apart in a saturated industry, you need to have an edge.
Maybe your property is located near a popular travel destination, such as the beach, mountains, or even a theme park. Or, you host a trendy Airstream with a vintage charm or a modern solar-powered unit that attracts eco-conscious travelers far and wide.
Most Airbnb hosts offer a simple 1- to 3-bedroom unit with essential amenities and a welcoming atmosphere. Go the extra mile to get your listing at the top of vacation rental results pages. A luxurious Airbnb doesn't have to cost you a fortune, either. There are simple ways to offer Airbnb luxury to your guests.
Unique offerings in your vacation rental elevate your listing. High-paying guests expect more, but your average traveler will be amazed by your effort in upgrading their experience.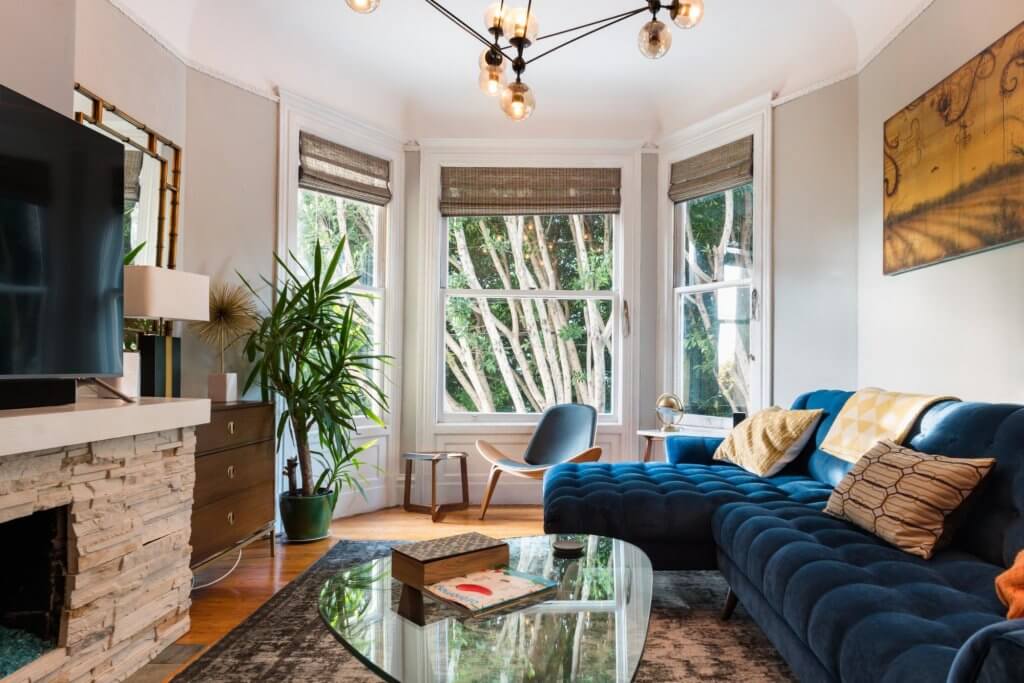 High-End Airbnb Amenities to Invest In
What makes an Airbnb stand out is its offerings. Guests are looking for more than just your average hospitality experience when booking through a third party. Personalize your vacation rental with a few luxury Airbnb amenities to give you a competitive edge and elevate your listing.
1. Upgrade Your Guests' Experience
The most affordable and efficient way to make your Airbnb more luxurious is to upgrade your guests' experience. You don't have to go all out by creating a specific themed Airbnb experience. However, giving your guests some cost-effective amenities is the smartest way to elevate your property listing.
Top recommendations to provide to upgrade your Airbnb:
Offer streaming services
Gift a personalized welcome wine bottle
Include a welcome basket
Stock non-perishable snacks
Have basic sports equipment like a soccer ball, football, etc.
Entertainment like video games or board games
Updated kitchen appliances
By having one or more of these offerings, you have the opportunity to charge more per night. The more you give guests, the more they are willing to pay.
2. Invest in Quality Airbnb Amenities per Room
Spending more on brand-name appliances and comfortable furniture will make your property stand out and boost earnings in the long run.
Be Still Getaways can help you elevate the interior design of your vacation rental. Luxury Airbnb hosts know how important it is to establish a décor theme and color scheme. Hire a company like Be Still Getaways to ease the stress of figuring out how to outfit your Airbnb.
Below, learn about the top décor and design ideas to take your rental to the next level.
Living Areas
Arguably one of the most important aspects of any vacation rental is the furniture and décor.
Outfitting your Airbnb should be done with a simple overarching theme in mind. These themes can include Barnhouse, Cottage-core, Urban, or more. Establish your Airbnb aesthetic to help make it more luxurious. Once you are aware of how you'd like your property to look, you can start decorating and designing your guest's experience.
For furniture, think comfortable, sizable couches and tables that accommodate the number of guests plus extras.
Additionally, ensure that the living room, dining room, and other common areas complement one another. For instance, the living room colors should match well, and the furniture should be functional and flowing throughout the property.
To open up your living spaces, hang up mirrors. The refracting light will not only make your home brighter with natural lighting but make it feel more comfortable. You don't have to stick to plain square or rectangular mirrors, either. Add a personal touch to your mirrors by getting them in unique shapes and different sizes.
Additional luxury Airbnb amenities to have in your living areas:
Coasters
Extra throw pillows
Reclining seats or couch
Add bold accents
Unique antiques or nick-knacks
Every vacation rental should be unique. Any artwork and décor should reflect a level of taste. It doesn't have to be expensive, but it should be expressive and reflective of the property's theme.
Bedrooms
If you're aiming for a high-end Airbnb, you should hold a high standard for bedroom furniture and accessories. A guest's ultimate comfort comes from the bedroom. After a long day of doing activities, guests want to unwind in a setting that feels familiar and luxurious.
High-end Airbnb bedroom amenities to invest in:
Bedbug-blocking mattress covers
Duvets and covers
Plush mattresses
Hypoallergenic white sheets with at least a 400+ thread count
Extra blankets and pillows
Silk eyemask
Additional storage space like a nightstand
Bookshelves with the latest top-ranking books or travel books
Lighting fixtures besides over-head lighting
Entertainment stand with a television
Additional mirror or vanity
Set of clothes hangers in the closet
Art or photography
White sheets are the standard for a hotel, and they are for rentals as well. White sheets can be bleached after every use, guaranteeing a stainless, clean sheet for every turnover. Just make sure your cleaners are bleaching them every time.
In addition, upscale your listing by adding a California King mattress in your main bedroom. Your guests will come in all shapes and sizes. Invest in a mattress that accommodates all.
Spending a little more on quality materials pays off in the long run since your bedding and other amenities will last longer without needing to be replaced. Ultimately, there's no specific style to follow, but it should complement the rest of the home's theme and colors.
Bathrooms
Observing and emulating hotels can inspire you to a luxurious Airbnb listing.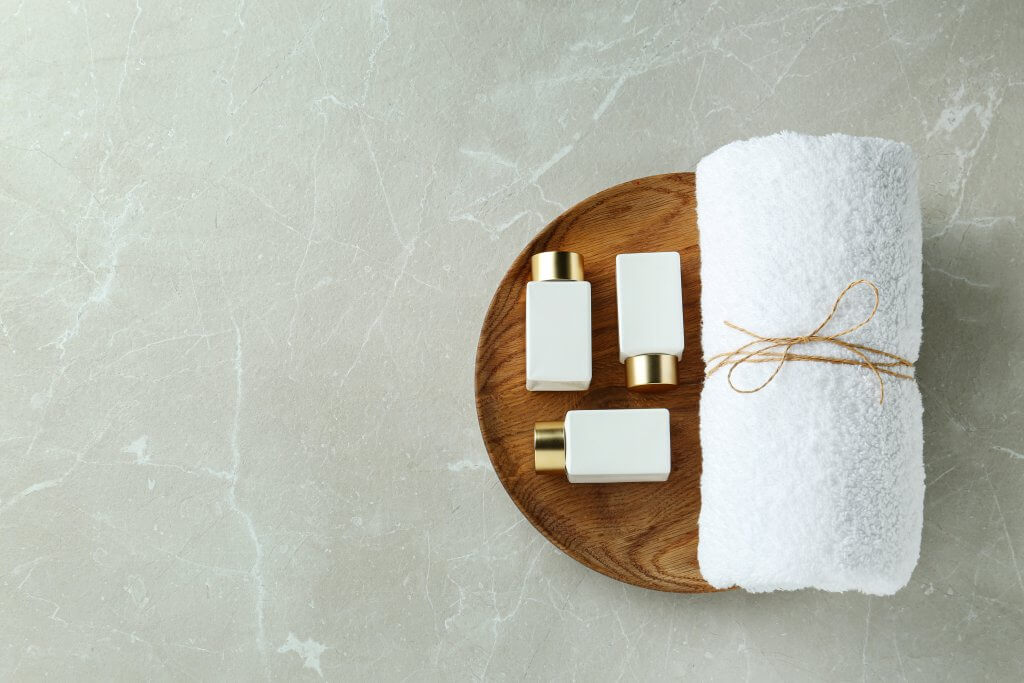 Offer plush robes and high-quality toiletries in your bathrooms to make your vacation rental unique. There are affordable ways to elevate your bathrooms. A small way to impress your guests is to have extra towels available.
Other luxury Airbnb items to include are:
Bathroom caddy filled with bare necessities
Bath salts or oils
Makeup remover wipes
Moisturizing lotions
Disposable toothbrush, floss, and toothpaste
Blowdryer and curling iron
Non-slip bath mat
Heated towel rack
Premium shower head
Hygiene products
Addition touches to add to your Airbnb luxury bathroom are flowers or house plants. These can offer a sense of luxury at a minimal cost. Your guests will appreciate the little touches.
3. Offer Eco-Friendly Alternatives
Moreover, another way to elevate your listing is to offer eco-friendly alternatives. Make your Airbnb special by giving guests the chance to better the planet. By making them feel like they are contributing to the betterment of the environment, you're also increasing the value of their stay.
4. Add an Airbnb Vending Machine
Upgrade your vacation rental through a vending machine that offers high-end amenities for guests to purchase. You can generate an additional revenue stream from your vacation rental, with minimum effort, by providing luxury items. Basic items like tooth brushes, hand soap, and more cheapen the purpose of a vending machine within your Airbnb.
Popular luxury Airbnb vending machine items include:
Eco-friendly shampoo, conditioner, and body wash
Sunscreen and aloe
Deodorant
Shaving cream
Bottles of water, sparkling water, or soda
Coffee or tea
Snacks, such as candy or potato chips
Over-the-counter medicine
Gift cards to local restaurants
Skin care products
Mini-bar selection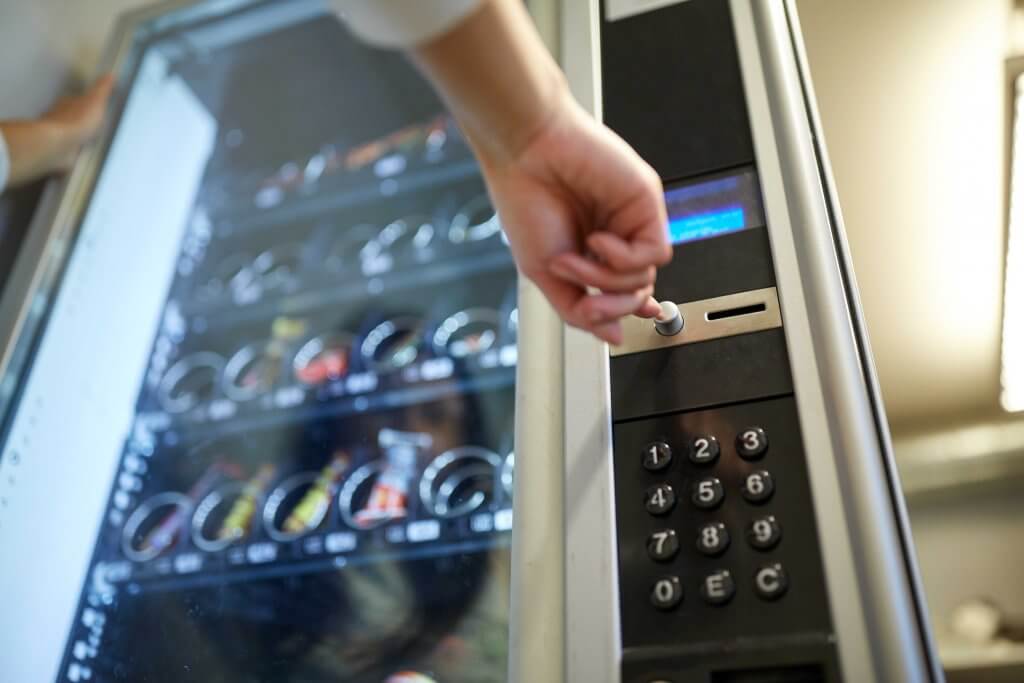 When considering Airbnb vending opportunities, be sure to think about your location and busy seasons.
For example, if your property is located near the beach, you'll want to provide sunscreen or even inexpensive sunglasses in your vending machine. Similarly, if you're located in a colder climate and your busy season is in the winter, consider stocking knit gloves and packets of hot cocoa mix.
Some companies sell vending machines, especially for vacation rentals. Air VNV Vending, offers all-inclusive, custom vending machines designed to add convenience and luxury to your short-term rental.
If a vending machine doesn't fit the aesthetic of your vacation rental, check out BnSellit™. This app allows Airbnb, Vrbo, and other short-term rental hosts to turn their properties into mini-marketplaces, offering an additional stream of income.
5. Hire a Reliable Cleaner
Invest in a reliable and thorough cleaning team to make your Airbnb stand out.
Cleaning is a service you can't overlook. Just a few missed dusty or dirty areas in your Airbnb can lead to bad reviews.
However, just any other clean won't cut it for a luxurious Airbnb experience.
Be Still Getaways manages to differentiate their properties as luxury by having a very involved cleaning process. Jamie Inlow, CEO of Be Still Getaways, says that she established a top-notch cleaning flow because "I was a cleaner. I cleaned all of our units. I knew exactly how I wanted things to be, so I started developing a certain protocol."
Her cleaners have a checklist of over 150 items. These checklist items are specific. All checklist projects have to be cleared as well-done before they leave the property. For example, she has cleaners send in confirmation images of how the sheets were tucked around the bed.
A thoroughly cleaned vacation rental will always lead to a more luxurious property. The level of detail to your property is what will give you a competitive advantage.
Aim to always have your cleanliness rating be above a 4.5 to achieve luxury status. Have your cleaners be mindful when cleaning – every detail matters. Take your cleaning procedure to the next level by providing your cleaning staff with detailed checklists. These will ensure that your property is always in top condition.
Also, it is encouraged to form relationships with cleaners so you can be sure your cleaners will leave the place sparkling after every turnover. An ongoing relationship with your cleaner results in more consistency and overall trust that your property is in good hands. Be considerate of your cleaners and provide them with enough support so they feel inclined to do well on-the-job.
Knowing your Airbnb will be thoroughly tidied and disinfected brings peace of mind and an excellent experience for your guests.
Market Your Rental to Luxury Travelers
Marketing your Airbnb can make or break your listing potential. Along with your premium amenities, it is crucial to invest in marketing your listing.
Notably, a luxury Airbnb requires a professional photography service to capture its essence for listing photos. Professional Airbnb photography is important because first impressions matter the most. Showcase your luxury Airbnb through quality photos to increase bookings.
Utilize your professional Airbnb photos by sharing them on social media. Be sure to share guests' photos, but don't overdo it. You want to still create an element of surprise. The images will advertise your property for you.
To make your listing stand out even more, join Airbnb Plus. This program ensures your property is verified by a third-party reviewer and assessed for quality and design. It makes sure you have all of the essentials to make guests feel at home — no matter where they are in the world.
Ultimately, marketing your Airbnb to be more luxurious will reel in those travelers who are looking to spend a little extra on a high-end stay. You are able to charge a luxury rate when your property is outfitted with high-end Airbnb amenities.
How to Truly Create a Luxurious Airbnb Experience
You can have the fanciest Airbnb furnishings, appliances, and amenities — but none of it matters if you're not providing a clean, welcoming environment and excellent customer service.
The best amenities for your Airbnb are an attentive host and a clean property. You can ensure thorough cleanings, and save yourself time to focus on guests' needs, with the Turno vacation rental automation platform.
Our automatic calendar sync, turnover scheduling, and payment features allow you to streamline your daily operations so you can spend more time providing an upscale Airbnb experience.
Hire a cleaner through the Turno host app now.