The most important thing to remember as an Airbnb host is that people choose your place instead of a hotel because they want that home away from home feeling. Whether they're looking for a stove, washer and dryer or private pool, most travelers want to feel like a tenant rather than a guest. With that said, it takes more than making the bed and handing over the keys to give them the ultimate welcoming experience. If you're lacking good ratings, there may be a few things you can do to improve your score.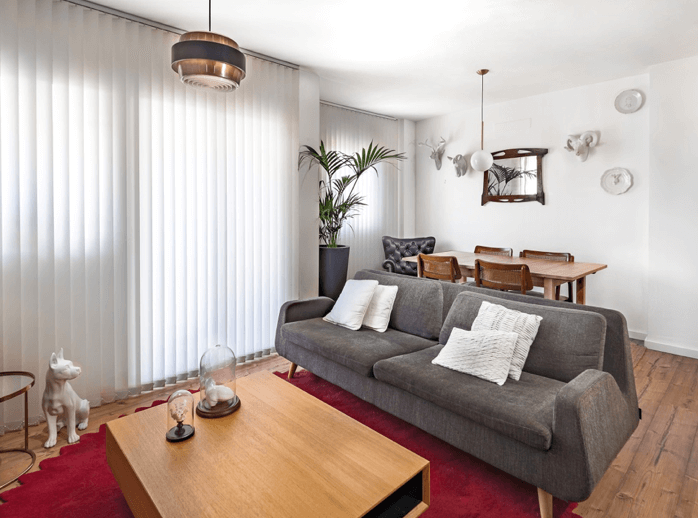 1. Put Yourself in the Guest's Shoes
If you've been renting for a while, it's easy to forget what it's like to be on the other side of things. A good way to remember what it's like is by listening. Sure, the natural thing to do when you get negative feedback is to get defensive but being a great Airbnb host is all about improvement. If several guests are giving the same complaint, you might want to pay attention. That particular issue is putting a damper on their experience, and you'll continue to get low ratings until you change it. You also want to encourage honest feedback from visitors, especially when you're first starting. Oftentimes, hosts will encourage guests to provide commentary about their stay based on interaction. However, most of the time the host is great, but the place needs work. So, when asking guests to write a review, ask them to be honest and highlight the positive and negative. It might hurt your ratings in the beginning, but it'll pay off in the end.
2. Make Sure the Place Is Clean
This might seem like stating the obvious but paying to stay in an unclean environment is disappointing. Here's the thing: Guests pay attention to the small details. They know the dishes weren't washed if there's a lipstick stain on the glasses. They also know if the shower wasn't cleaned if there's soap residue left from previous guests. The bad thing is, most Airbnb hosts charge a fee for Airbnb cleaning service, so when the place is filthy, it feels like a ripoff. If you're charging $15 to $20 for cleaning, bring someone in who knows what they're doing by finding a Airbnb cleaner on Turno. And if you're tidying up the place yourself, pay attention and don't be in a rush. Without a doubt, a dirty rental is the quickest route to a low rating.
3. Respond in a Timely Manner
It's understandable you have a life and other things to do and some guests can be overly needy. But nothing feels worse than reaching out to an Airbnb host and not getting a response until hours later or the next day. You have to make yourself available at all times, even if it means checking your phone every five minutes. If you have a tight schedule, find someone else who is willing to help you. When multiple people are working to accommodate a guest, all the work isn't on one person and everyone is happy. Quick responses are at the top of the list for visitors, so make sure you're accessible or you can bet you'll get continuous negative reviews.
4. Take Good Photos
This one is a bit tricky. For the most part, it's imperative that you take quality photos that create an inviting look for potential guests. Avoid posting pictures that are fuzzy or have low lighting. You want to make sure everything looks crisp and provides a good detail of the area. On the flip side of that, posting pictures that are deceiving is a no-no. One of the biggest upsets that you'll hear from visitors is that the place didn't look like the photos. It's very disappointing for a visitor to walk into an Airbnb and feel like they were completely lied to. So, do your best to post pictures that look good but are also true to the condition of your rental.
5. Offer Competitive Rates
Everyone is looking for the best deal. You should take a look at the other listings  that are similar to yours and see the average price range. If you can, make your place a little cheaper than the rest, especially if you don't have any reviews. The truth is, potential guests will scroll past your listing if they feel like you're overpriced.
6. Pay Attention to Guests Needs
Most people who book an Airbnb are travelers looking for a cozy place to stay. One of the main things that visitors do while on vacation is go on tours and excursions which are both exhausting. There's nothing like a midday nap after a long morning, but a bright room can make things uncomfortable. Consider making improvements like installing darkening blinds so that guests can rest well and recharge for the evening. It's the small things that make a big impression.
7. Include Accurate Descriptions
It's important to get the details right on your listing because it could determine whether a person books your place or not. Try not to be too vague about the location of your home. You want everyone to have a clear understanding of the area where they'll be staying. It's also vital to update the amenities. If you didn't have cable and now you do, make sure you update that! And that goes for the contrary. If you no longer offer an amenity or it's out of service, don't forget to mention that. You'll have some unhappy guests on your hands if you list incorrect inf
ormation.
8. Become a Super Host
Becoming a great host takes time and dedication, but you'll get there. All people really want is a good experience, and if you give them that, they'll love you for it. And when things go wrong, your job is to be a problem solver. Guests want to know that you care and that you put in the effort to make their stay a good one. Once you master that, you'll start to receive frequent bookings and positive reviews in no time.
About the Author: Kenneth Gordon serves as the Assistant VP of Factory Direct Blinds.